Pyrmont Christmas Concert 2010
Jacksons Landing again hosted the annual Community Christmas Concert on Sunday December 5. The Salvos and the Australian Literacy and Numeracy foundation (ALNF) were the main charities supported by the event held in Refinery Square which featured a concert, community carol singing, food stalls, a Nativity scene, the Giving Tree and Santa.
Pyrmont Community Bank® Branch was a sponsor and also organised a barbecue for the event. Well known local restaurants Blue Eye Dragon and Viva Goa also served delicious food and donated proceeds to charities supported by the event. The following additional information has been provided by the organising committee.
The New Young Northside Big Band (directed by Geoff Power) leads us in with exciting Big Band Jazz items. This year the concert was opened by Marcelle Hoff, JL resident and Sydney's Deputy Lord Mayor, and the Christmas Story was narrated by Christopher Waterhouse of the Sydney Theatre Company. The Children's Choir, directed by Julie Blewitt, performed deliciously, and children created cardboard hands in support of Hands Up for Aboriginal Literacy.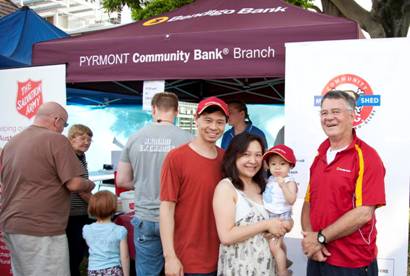 Santa arrived at 6.30, drawing scores of children to urgent consultations at his throne. This year's featured Brass Band was the NSW Police Service outfit, whose first contribution was a joyful half hour of stirring sound. Pyrmont Sings! – the community choir – sang popular songs, carols and an Australian medley: then they reinforced the Police Band to lead community singing of five well-known Christmas carols.
Finally, the Police Band took over to give us some wonderful versions of popular favourites, concluding with a boisterous and infectious rendition of Tchaikovsky's 1812 Overture. During a pause in this recital, Wayne Walter of McGrath Real Estate Agents drew tickets of sixteen prize-winners in our great raffle.
For some years the concert has been staged on an Aquashell moored off Cadi Park. This year the tides ruled that out, and Cadi Park was not available, so the concert returned to its original venue, Refinery Square on Bowman Street. Santa was unable to come by Water Police ferry, so he caught a passing Fire Engine – and departed on a Harley Davidson.
In significant ways the tradition has evolved. The first concerts were conceived by Barbara Mackay Cruise and funded by Lend Lease. The expanding tasks are now managed by an organising committee, and supported by residents and a broad range of businesses. Kids bring presents to a giving tree, for less fortunate children. The community choir – Pyrmont Sings! – has grown to forty voices, and has moved from the margins to centre stage. The Children's Choir performed for only the second time. Both choirs rehearse on Tuesday evenings, and welcome anyone who enjoys singing. (Wine, Dinner and Song is the ethos of Pyrmont Sings! which is privileged in having Nancy Long Dudley as Director, and Jan Martin as Deputy Director and accompanist.)
The Jacksons Landing community has developed financially as well. Blue Businesses are increasingly generous in supporting us – see below for a full list. This sterling support, together with our own collections of food, books and gifts for children, now allow us to disburse significant amounts to our three charities. This year, these are:
The Harris Centre, which provides social support in the Ultimo-Pyrmont peninsula,
The Salvation Army, which does the same nationally, and
the Australian Literacy and Numeracy Foundation which raises standards of literacy and numeracy for children in many disadvantaged circumstances.
We raised $36,700. So we were able to hand over
a large quantity of food to the Harris Centre
$17,000 and lots of toys to the Salvation Army, who collected another $2,700 on the night, and
$17,000 to the Australian Literacy and Numeracy Foundation.
Sponsors this year:
Major sponsor ($10,000): Wayne Walter of McGrath Estate Agents
Platinum donor ($5000-$10,000): Vivas Lend Lease
Gold donors ($1000-$5000): Pyrmont Dental Health, Raine & Horne City Living, Blue Eye Dragon, Kohinor Scaffolding, Quick Plumbing, Dynamic Property Services, DentArtisans, The Point Hotel, Sanctuary Sanitarium, McCourts Solicitors, MBE Business Service Centre Pyrmont, Star City, City News
Silver donors ($500-$1000): Luke Mangan, Viva Goa, Bendigo Bank, Morton & Morton, Supa IGA Pyrmont, Adept Airconditioning, Pride Electrical, Main on Construction & Maintenance
Bronze donors ($200-$500): Kho & Lee Property Group, 1945 Restaurant, Thai Food 4 You